Almost everyone has heard of Banff National Park, but there is a hidden gem for eloping in the Rockies that not a lot of people consider, and that's Kananaskis! Kananaskis Provincial Park lies east of Banff National Park, and shares a boundary with Spray Lakes Provincial Park; another underestimated region, but we will get to that another time.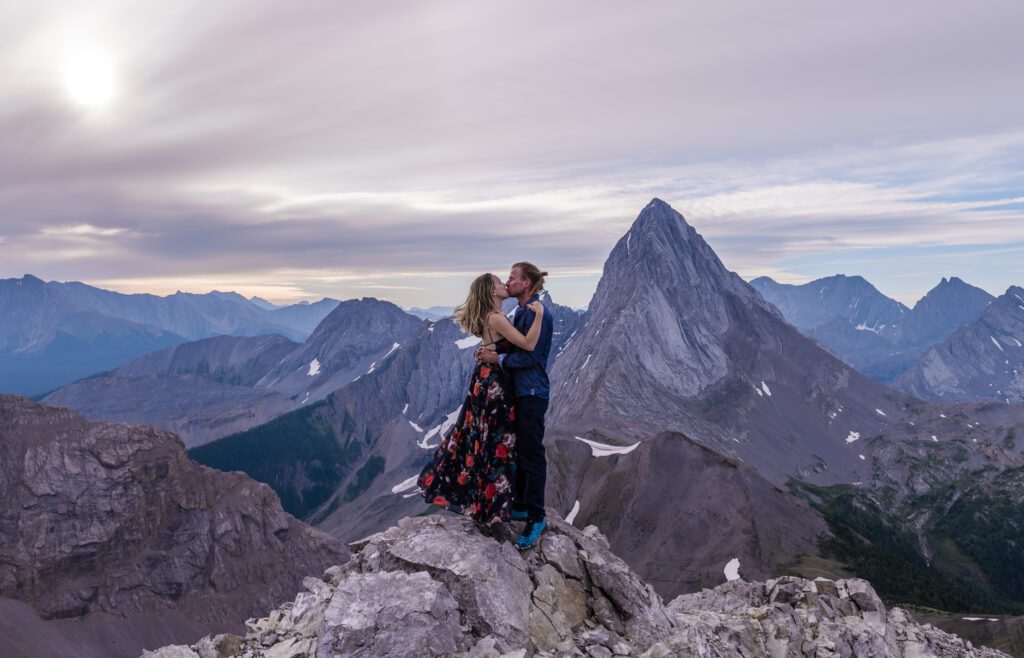 Kananaskis offers access to the Canadian Rockies eastern peaks and some absolutely stunning vistas. There are so many amazing hidden gem locations for eloping in the Rockies, it's hard to keep up! There is a range of hikes from easy to hard, backcountry campsites, ski areas, lakes galore and backcountry cabins all ready and waiting to play host to your special day. Let's take a look at some of my all-time favourites.
Baldy Mountain
The trek up to the summit of Baldy is not for the faint of heart, but the views the ridge offers are absolutely breathtaking. Aside from a few downclimbs, its nothing you couldn't handle, but I would definitely recommend a summit wardrobe change for this elopement location. Local officiants may balk at this summit trek, but the good news is that someone near and dear to you who is keen to bag a peak in Kananaskis and attend your special day will do just the trick. Getting ordained online is simple, and you can easily file all of the paperwork later at your local town hall. There are plenty of spots to snap some shots along the way, and if you're looking for some epic mountain shots, this is definitely one place to do it!
King Creek Ridge
King Creek Ridge has to be one of my favourite hikes in Kananaskis. The hike to the ridge is steep, but the views and variable terrain you can find here makes this hidden gem absolutely worth it. Surrounded on all sides by the towering jagged peaks of the Canadian Rockies, with Kananaskis Lakes gleaming in the distance, makes the trek worthwhile. I would recommend this location for summer through to fall elopements, as the wildflowers and greenery up top will be super lush, along with the valley below.
Barrier Lake/ Prairie Lookout
Barrier Lake is the first lake you come to on the HWY 40 to Kananaskis Country. The Lakeshore is surrounded by the beautiful peaks of the Canadian Rockies, the Lake itself offers a chance for some stunning canoe photos, and the beach is easy to access to play host to your vows and guests. The forest is loamy and offers a lovely walking trail for the approach. This would be another stunning location for those who are looking to say their vows, and then head off for some adventure photos. The summit offers gorgeous views of the surrounding peaks, as well as the lake below, and has a 'pride rock' spot perfect for pronouncing your love to the world.
Kananaskis Lakes
This spot offers some gorgeous terrain. With stunning blue lakes that offer a boat launch, small waterfalls, epic hiking trails, and loamy forests, there is plenty of options for your elopement location. For those who are a bit more rustic, there are plenty of campsites scattered around the area for you and your guests to call home for a short getaway.
Little Lougheed Trail
For those looking to stay down low, the enchanted forest at the base of Little Lougheed could be the place for you. Definitely one of the hidden gems, this trail turns into a lush fairy wonderland in the warmer months and is perfect for those looking to add a little whimsy to their special day. The trek isn't far, and there are plenty of locations nearby, including the meadows at Engadine Lodge, which are perfect for adventure photos post- 'I do'. What's more; Engadine lodge itself offers a cozy cabin or chic tent accommodations for those looking to a honeymoon or have a gathering of friends and family post-elopement.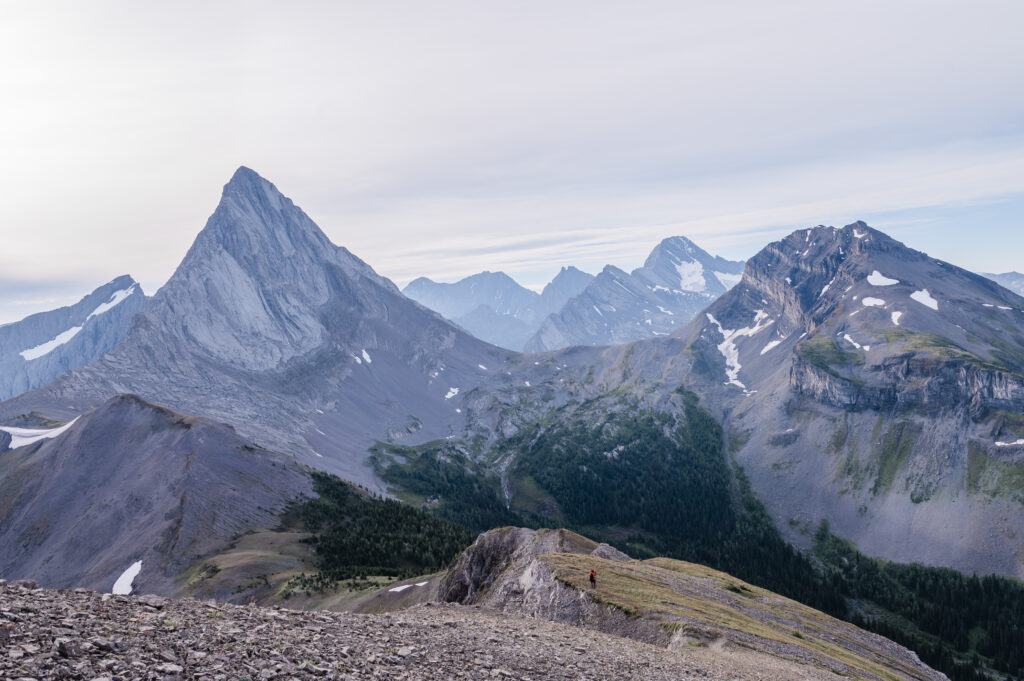 KPOW
Winter may be over, but that doesn't mean you can't plan your elopement for next year! For the powderhounds, KPOW is the choice for you. Hop into a cat with your loved ones and roam up to the jagged peaks and gladed terrain that used to make up Fortress Ski Area, and go for the run of your life with your honey by your side. The best part? you can say your vows and take a lap in your wedding attire, and then switch into your ski gear inside the cat and ski the day away. For those who are keen on the idea, but not keen on skiing, snowshoeing is a great alternative!
Nakiska/ Kananaskis Village
For those of you looking to elope, but plan on having a reception afterwards, Nakiska and Kananaskis village are a stunning choice and will play host to all of your needs. The immediate area can cater to those looking to ski, snowshoe, cross-country ski or tube, and Kananaskis Lodge is now home to the renowned Kananaskis Nordic Spa. The resort itself boasts a recent refresh, reminiscent of staying in a chic lodge. The forest surrounding the resort has plenty of stunning lookout points for you to say your 'I do's' and are just a short walk along pathways, making the trek easy for a bride in her dress, as well as your guests. The bonus? Troll Falls is just a short ~2km hike away, and more often than not you'll find a moose grazing in the area.
Overall, Kananaskis has plenty of hidden gems offering something for everyone, you just need to know where to look. Lucky for you, I have spent many years exploring what I call 'my backyard' and have a long list of 'must elope here!' hidden gem locations just waiting for the perfect couple to come along and say 'I do'!