Are you ready to begin planning your elopement? The term 'elope' means to sneak off and get married in secret. Couples historically would do this to escape the marital limitations their families would put on them, and therefore eloping took on a negative meaning and was very frowned upon by families and loved ones. Although some still look at this marital practice negatively today, eloping is becoming increasingly popular as time goes on. More and more couples are choosing to elope, as it brings the focus of marriage back to what it should be about; the couple. Additionally, eloping is a great way for couples to happily pledge to love and cherish one another until death do them part, without breaking the bank in the process.
SO, WHAT DOES IT MEAN TO ELOPE?
Elopements are an intentional, intimate wedding day experience, which focuses on the couple, avoids a huge production and the money drain of a traditional wedding day allows the couple to produce an authentic wedding day experience of their dreams. Although some couples choose to spend their elopement day together with no family, an elopement involves witnesses, an officiant, and most often a photographer. While intimate weddings are similar to elopements, a true elopement is just about the bride and groom and their connection and love for one another.
The great thing about elopements is that they are so unique. Couples have some idea of what they are looking for and where they want to be, they are just unsure of the specifics. Even sometimes, they know they want to spend forever together, they just have no idea where to get started on the planning process. This is where I come into the picture! I am not only a photographer, but I am here to be my couples guide to the best elopement they could have possibly dreamed of! Although there are so many options out there, I try to narrow it down for my couples, as too many options can be very overwhelming, and can add more stress to a situation that doesn't need to be stressful at all! Perhaps the best part about eloping is that you get to create a day which is exactly what you are dreaming it up to be, and there is no one else placing limitations on your special day.  No matter what your dream entails, I am ready and willing to do my best to provide you with the ultimate elopement experience — one that is custom-tailored to the two of you with your dreams leading the charge!

 I WANT TO DARE YOU TO DREAM BIG
We all know the best-laid plans begin with a thought-provoking conversation. This is why I love to connect with my couples on the phone or over coffee when booking and discussing their hopes and dreams for our session together. Your elopement is solely about the two of you souls coming together as one, and it is about the entire experience. This is a memory you will have for the rest of your life, and it should be the most positive and love-filled occasion. Before we meet, you two should sit down over a nice bottle of wine (or kombucha, if that is more your style) and have a conversation about what you see as your perfect elopement experience. I don't want you to just think inside the box. I want you to think about what captures the essence of who the two of you are the best, and go from there. There is no dream too big, and if you want just something short and sweet or even a whole day out hiking and exploring together, it is up to you to make the decision! Additionally, your elopement doesn't necessarily need to take place in a location where you have been before. It is okay if there is somewhere you want to go and has always been your dream to visit. If you want to elope in the mountains, there are so many amazing locations, it may be hard to narrow it down, but you should choose a location that captures the true essence of you two as a couple. If you can't narrow your plans down right off the bat, that is absolutely okay! We can refine and tweak everything as we get closer to the day. The most important thing to remember is to take a look at the weather for the locations you are thinking of for your specific day which you have chosen to connect your souls. The average planning time can be anywhere from a few months to a year or more, so don't feel like you are taking too long or need to rush the process. It all depends on your date, your ideal plan, and what comes to light as the perfect elopement for the two of you.
TIME TO DO YOUR RESEARCH
So now, you have some idea of what you are looking for in an ideal elopement experience, and it is time to start diving into the planning process. There are often some logistics that need to be ironed out, so doing research and gathering information will help to smooth out the entire process. If you have chosen a location where we all need to travel, those plans will need to be nailed down as soon as possible. A good plan here is to get travel insurance in case of an emergency. Let's face it, life can have some unexpected turns and it is good to be ready for anything! Another thing to think about is your lodging, how you will get from point A to B, are we hiking? Will you need snacks and fuel for the hike? There may be variable terrain to get to certain spots, so it is a good idea to gather as much Intel as possible. The good news is that the internet is a great host of information, and there are plenty of ways you can get the information you need.
Now, it is very important to look into the permits and regulations regarding getting married in the location you're choosing, to be sure everything is covered appropriately. I know that National Parks and National Forests have their own guidelines for getting married within their gates, so be sure you acquire all necessary permits for entry and hosting your elopement inside their boundaries. It might be best to call and speak to an actual human when trying to figure out these logistics, as a lot of online resources may not have specific guidelines for elopements and intimate weddings. This way you get the complete picture and everyone is on the same page with what you will be required to have on the day of your elopement.
Speaking of pictures, I should note for you here to check your passports! This is a common mistake when travelling, and if needed your passport will need to be up to date. There is nothing worse than arriving at your flight or travel accommodations and being turned away because your passport has expired. Don't forget to put this into your carry-on so you have it prepared and ready to go!
During the next step of the research and booking process, I will be in contact to confirm the activities you have planned during your dream elopement so we can all be on the same page as far as a timeline goes.
One week out from your elopement, we will all check the weather and you should start packing. It is a great practice here to have a checklist to ensure you pack everything you might need for your elopement experience. I always pack rain gear to be sure to thwart any rain clouds that may be heading our way. A little rain never hurt anyone, but it is important to be prepared! Perhaps the most important piece to pack is your marriage license and any other legal documents or permits you may need for your elopement. As we come down to the wire, it is important to double-check that you have everything prepared and packed to head out for the best elopement experience you could have asked for! Stay hydrated, relax, and take some quiet time to yourselves to be sure you are rested and your best self for the first day of the rest of your lives as husband and wife!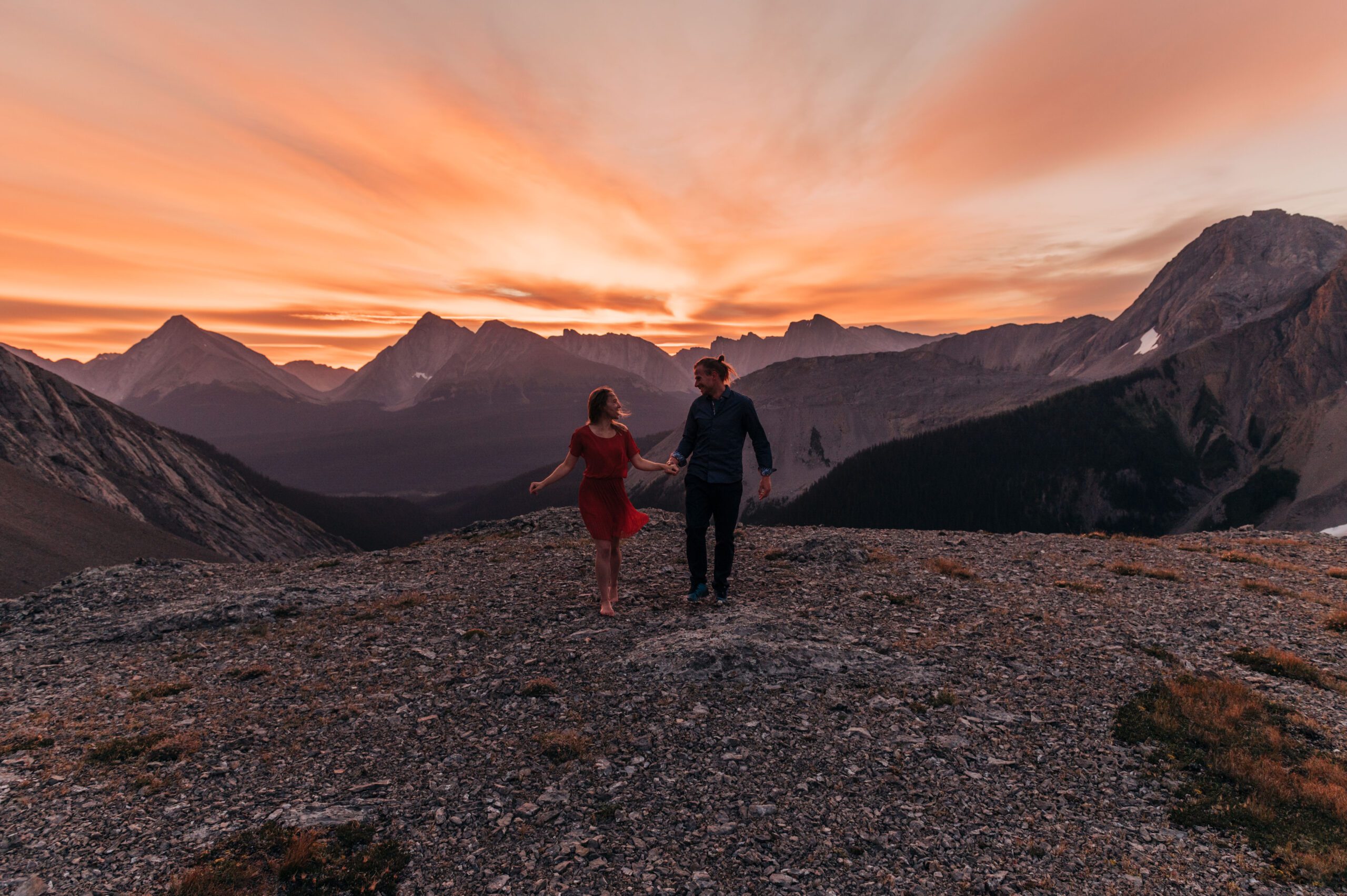 LET'S DO THIS THING!
After all the meticulous planning, excitement, and waiting, your amazing elopement experience is finally here!
I invite you to take some moments to get stoked, be present and in the moment, and enjoy every second with your soulmate. There is no need to stress, everything will work out as it should, and your elopement experience is going to be one for the books! I can't wait to spend the day with you and help create moments that will light your inner fire and keep it burning for the entire elopement experience, and the rest of your lives together.
ENJOY YOUR ELOPEMENT BLISS!
We did it! Now, it is time for us to part ways and for you to head off and celebrate your elopement further with each other as well as your family and friends!
It may seem like a silly note, but don't forget to print your photos so you can cherish them for the rest of your life! Of course, you will have digital copies, but it is important to have hard copies of your elopement so you can sit down together in the future and reminisce on the best experience you could have ever imagined.
As always, if you need anything from me post-elopement, reach out! I am always here for my couples and I love hearing about the continuation of your love story!
All the best,