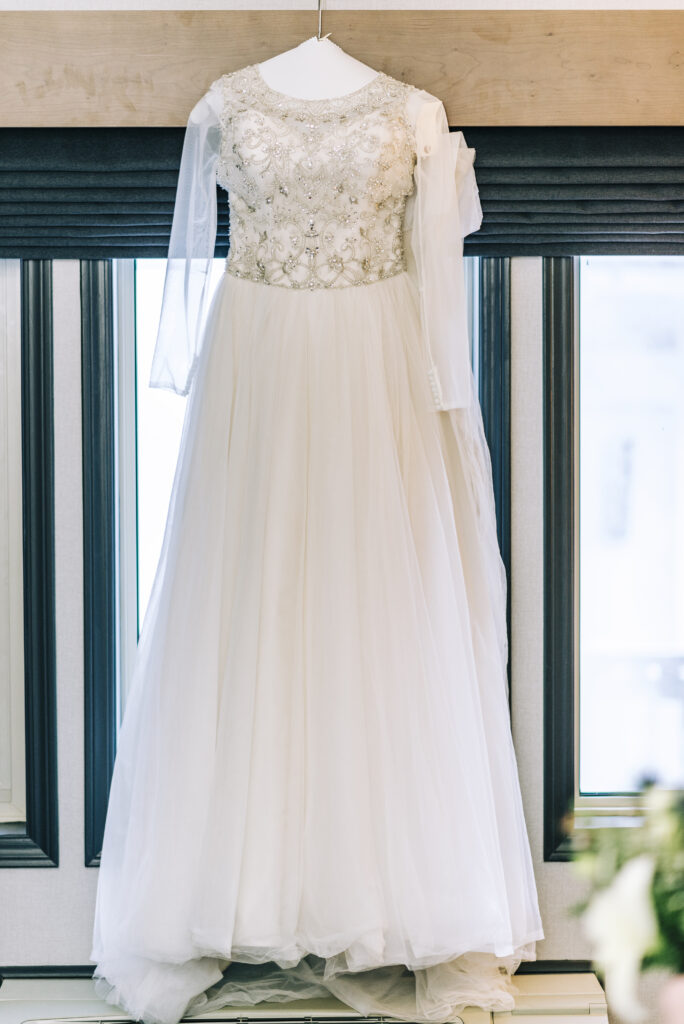 In today's day and age, there are so many options to find your dream dress, you shouldn't have to spend your entire budget to get it! Most couples who are ready to get hitched don't necessarily have the funds to foot the bill for a wildly expensive wedding let alone spend tons of cash on the bride's dream dress. The good news is that there are plenty of ways to save cash so you don't jet off into your future together toting a trunk full of debt behind you. It has always blown my mind how expensive and lavish wedding dresses can be, but with a little (or a lot) of hunting and patience, you can find THE dress that makes you weak in the knees without maxing your emergency credit card.
I've gone ahead and put together a list of inexpensive wedding dress shopping sites that are sure to help you find the dress of your childhood dreams. Well, maybe adult dreams, because who wants to wear puffy capped sleeves and 1000 pounds of tulle (if that's your thing, no harm no foul here. I once dreamed of a dress like that, but alas our tastes change). So, without further adieu, let's get into the listicle:
Thrift Stores/ Consignment
For my ladies whose motto is 'so nice, you can use it twice… or three, or five times', the choice is obvious. Purchasing a pre-owned wedding gown will not only ensure you get the designer gown of your dreams, but it will also ensure you'll likely get it for a hefty discount. The bonus? You can dance, drink, and eat in your pre-loved gown all night long and not worry about mussing up something you spent $1243252 on. Okay, that may be an exaggeration on price, but you get my drift here. When I was searching for 'the one' I stumbled across websites like Still White and Pre Owned Wedding Dresses, and although I didn't find the dress to end the hunt I definitely found a few which were top contenders and had a price tag my wallet approved. Another great choice for pre-loved gowns is stopping by your local thrift store. You never know what gems you might find in there, and a good soak in the tub with some mild detergent followed by a steam will help it to look fresh as a daisy. 
Amazon
Believe it or not, Amazon is the go-to for many beginner elopement photographers who are looking to build a cheap wardrobe for their styled shoots. There are some really great low-budget designers who are featuring their products on Amazon, like Chady. You can find the dress you're looking for with just a few hours or more of browsing, all while keeping the price tag well under $1000. 
eBay
We've all been there in our younger years; although Amazon seems to have taken over, eBay still exists today and has some wicked wedding dress offers that at first seem too good to be true. Of course, many of the options you'll find are knock offs, but just be sure to shop from a seller with raving reviews. You can definitely take your chances on some of the lesser-known shops, but be sure to order in plenty of time so you can return the gown and order your backup in case your gamble turns out to be a flop. Let's face it ladies, bargain hunting on eBay for a wedding dress is not for the faint of heart.
Etsy
Okay, I'm going to let you in on a little secret. Are you ready? Etsy is the freaking MECCA for gorgeous boho gowns. Let me tell you, my husband and I have been married now for almost two years, and Etsy has me wondering – how soon is too soon to renew our vows? I am even considering buying 'investment' gowns to use for styled shoots. If I proposition it as an investment, maybe I won't get in trouble from hubs… right? Plus, who's going to judge me if I sit around during self-isolation wearing them from time to time, eating pizza on the couch and watching New Girl? Anyways, if you haven't jumped on the Etsy train, now's the time! Get comfy and make sure your bottle (I mean glass) of wine is full and get shopping!
Wish
As sketchy as it might seem, taking a deep dive into Wish might have you coming out on the other side triumphant. Like the other options above, it is a great idea to do your research and make sure you aren't getting duped. But who knows, that $20 gown from India might be a pumpkin or a gorgeous bedazzled creation, it's up to you to find out. But, I'll say it once again, give yourself time to order a second gown in case this one shows up and is actually a toddler size 3 and closer to champagne than off-white.
Lulu's
GIRL, (sorry, but caps was absolutely necessary) if you haven't checked out the wedding shop at Lulu's, you're crazy. My Visa card (and MasterCard, and Amex, and debit card…) can all attest to the fact that Lulus is the bomb.com for absolutely everything including wedding gowns. It doesn't matter if your style is classic, chic, boho, or otherwise, you'll find something on Lulus. I can't rave enough about this site. The options are great, the quality is there, and the price tag is too good to be true. Heck, you might even turn into that bride that has two gowns for her big day, and no one would even dare roll an eye at you once they know you shopped at Lulu's. Everyone loves a good two for the price of one deal, and the prices here are just that good. Plus, the customer reviews are so on point, you won't feel even an ounce of buyer's remorse.
Reclamation
Somebody, hold me back! No, bring me a fan. NO, cut up my credit cards. I recently stumbled upon Reclamation and oh boy let me tell you it was all I could to restrain myself. THESE DRESSES ARE SO DANG BEAUTIFUL, I died and went to wedding dress heaven. Let me preface this by saying I LOVED my dress. It was THE ONE. But, girl, if I had seen even a glimpse of this site before, during, or after purchasing my dress…. We would be having a different conversation right now. The Reclamation store is an absolute dream, and there are no words to tell you how amazing their dresses are. You just need to stop right now and head over there, because I can't type anymore. I've been sucked in and now I'm over here doing a deep dive on planning some styled shoots.
My last few parting words to you are: do your research! While shopping online may be daunting, someone, somewhere out there has your dream dress in the perfect size and at the absolutely most perfect price. Don't take my word for it if you don't want to, but I really think you should grab a bottle of… I mean a glass of wine and hit the interweb. Trust me. It's worth it!